Databases
Provides access to numerous high-quality reference resources, including multi-volume encyclopedias, biographical collections, business encyclopedias, consumer health information, literature resources, science encyclopedias, and other specialized reference sources.
Available to North Kingstown card holders from home.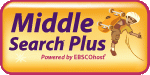 Middle Search Plus provides full text for more than 140 popular, middle school magazines. All full text articles included in the database are assigned a reading level indicator (Lexiles). Full text is also available for thousands of biographies and historical essays. Middle Search Plus also contains 84,774 biographies, 105,786 primary source documents, and a School Image Collection of photos, maps and flags
Tutor.com provides Live one-to-one help: Every Day from 2:00pm to 10:00pm. Choose the Student Center, College Center, Adult Education Center, Career Center or the ProofPoint Writing Center.
For 24/7 access try the SkillsCenter Resource Library for Study Resources, Test Prep Resources, and Career Resources.