Databases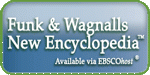 Provides over 25,000 encyclopedic entries covering a variety of subject areas.
Provides access to numerous high-quality reference resources, including multi-volume encyclopedias, biographical collections, business encyclopedias, consumer health information, literature resources, science encyclopedias, and other specialized reference sources.
Available to North Kingstown card holders from home.
The World Book web site offers an encyclopedia, dictionary, atlas, homework help, study aids, and curriculum guides.