Fun Fused Glass Workshop
Submitted by

Elizabeth

on June 14
In this workshop led by Deenie Pacik Giuliano, teens create their own fused glass pendants using colorful pre-cut glass, crushed glass, powders, and dichroic glass. Deenie discusses how
books influence her creative process as
a professional artist and encourages crafters to incorporate their favorite books into their glass project. The pendants then will need to be fused at 1480° in a kiln at Deenie's studio and can be picked up at the library the following week. This program is for ages 10 and up.  Please register beginning June 10th.
Hours & Contacts
M - Th: 9:00am - 8:30pm
F - Sa: 9:00am - 5:00pm
100 Boone Street
North Kingstown, RI
02852
(401) 294-3306
Directions
Newsletter & BookLetters
Contacts list
Connect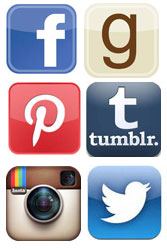 Search this Site
Custom Search