Built from Stone: The Westerly Granite Story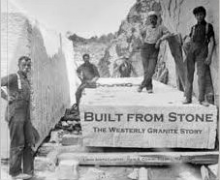 The granite industry once employed more than half of the residents of the greater Westerly area. The granite that came from the quarries in Westerly was highly prized for its uniform color and fine grain.
Built from Stone: The Westerly Granite Story was written by Linda Smith Chaffee, John B. Coduri and Ellen Madison and was published by the Babcock-Smith House in 2011. The three authors, all trustees of the Babcock-Smith House and all with ties to the history of the granite industry, will present this informative program on the granite quarrying and manufacturing processes that led to the creation of hundreds of beautiful buildings and majestic monuments and memorials throughout the United States. Please register.