Thursday Book Club: Mr. Penumbra's 24-Hour Bookstore by Robin Sloan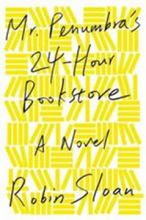 Global conspiracy, complex code-breaking, young love, and the secret to eternal life — mostly set in a hole-in-the-wall San Francisco bookstore. The Great Recession shuffles Clay Jannon from his web-design drone job to night shift at Mr. Penumbra's 24-Hour Bookstore. Curiously, few customers come in repeatedly and never buy. Analysis reveals astonishing secrets…
Books are available at the Circulation Desk. Please register.
April 24th @ 530pm
Crossing to Safety by Wallace Stegner