The Story Behind Wickford's Connection to Art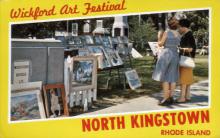 We are all aware of the Wickford Art Association and its summer art festival, but most don't realize that the village's connection to art and artists extends back another three quarters of a century to the Victoria-era grand summer hotel, the Cold Spring House. Join Tim Cranston as he examines Wickford's roots in the arts and carries that story through to the present day. Registration preferred.
Sponsored by the Friends of the North Kingstown Free Library.