The Original War of the Worlds Radio Broadcast: Tuesday, October 30th from 6:30 pm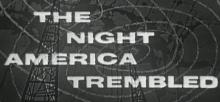 Panic in the Streets!!
Experience the event that terrorized and panicked the nation! On October 30, 1918, Orson Welles broadcasted H.G. Wells The War of the Worlds from a CBS radio station in New York City. Join us to hear how it all went down.