Peeps in the Library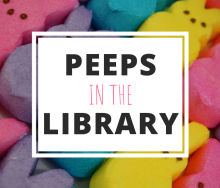 What can you do with a package of PEEPS? We want to see!
Design your best diorama using PEEPS as all people/characters, and submit it for judging at the library! You can submit on your own or as a family/team and be as creative as you'd like! Just follow the rules below, and you could go home with a prize!
All submissions are due by April 26th at 5pm. Dioramas will be displayed through the library until May 16, with winners showcased after May 10th. 
Download the registration form at the bottom of this page and be sure to include it with your submission. 
Diorama Contest Rules / Information: 
Categories
Adult / Family (ages 16+, or mixed ages)
Tween (ages 10-15)
Elementary Aged (ages 7-9)
Little Peeps (ages 6 and under)
Submissions and Voting
Dioramas will be accepted from Mon. April 22 through 5pm on Friday, April 26th. 
Dioramas will be on display from April 27 – May 16.
Library attendees will be invited to cast their vote in each category for the PEEPles Choice 

Awards April 27th through Thursday May 9th. Winners will be notified by 5pm on Fri. May 10. 

First place and PEEPles Choice winners will received ribbons and prizes.  
Dioramas must be picked up by 5pm Sunday, May 19th. All dioramas not picked up will be discarded. 
Entry Rules
All dioramas depicting family friendly themes will be accepted (if it were a movie, it would receive a PG rating). Library staff reserve the right to disqualify or refuse inappropriate dioramas.  

For ideas and inspiration, google "peeps diorama" or visit 

https://www.marshmallowpeeps.com/art-diorama-contests/ 
All people or characters must be Peeps, and dioramas must contain at least 1 Peep.
Entries must be no larger than 14" x 12" x 18", and must be free-standing. All items in the diorama should be secure enough to survive being moved around the library as needed by staff. While staff will do our best to keep each diorama safe, the library will not be held responsible for damage done to diorama. 
Dioramas should have the entrant's first name/team name, age, and title of the diorama. All other information should be submitted on the form below. 
Dioramas are to be dropped off at the Young Readers' desk during library hours. 
Prizes
There will be 2 winners per entry category. Library staff will select winners based on creativity, visual appeal, and incorporation of peeps within the diorama. A second winner in each category will be determined by popular vote. 
Each winning diorama will receive a $20 gift certificate to a local business, and winning dioramas will receive a ribbon to showcase during the last week the dioramas are on display.
*All submissions give the library permission to photograph your diorama and use it in social media or marketing materials during the competition and in the future.