NEW! Binge Box Collection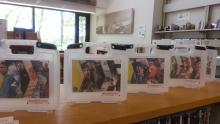 Binge Boxes are perfect for people who love movies! Each Binge Box contains 6 movies for a spectacular movie watching experience! Enjoy films by starring favorite actors or category.
You will find themed Binge Boxes, such as Musicals, Boston Movies, Melissa McCarthy Movies, Quentin Tarantino Movies, Halloween, The Rock (Dwayne Johnson), Meryl Streep Movies, George Clooney Movies, Heist Movies and Marvel Movies.
Circulation paramenters:
Limit 1 Binge Box at a time per person

Checkout period is 1 week.

No Holds or Renewals

$1 per day late fee

Can ONLY be returned at the North Kingstown Free Library and at the Circulation Desk. Cannot be returned in the book drop.
So, grab a Binge Box, gather your friends and family, and enjoy the magic of movies!!