NEW! Binge Box Collection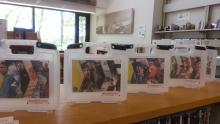 Binge Boxes are perfect for people who love movies! Each Binge Box contains 6 movies for a spectacular movie watching experience! Enjoy films by starring favorite actors or category.
You will find themed Binge Boxes, such as Totally 80s, It's a Disaster!, War Heroes, Romantic Comedy, Sci-Fi, Tom Hanks, The Champs, Teenyboppers, Nicholas Sparks, and Leo (DiCaprio) Love.
Circulation paramenters:
Limit 1 Binge Box at a time per person

Checkout period is 1 week.

No Holds or Renewals

$1 per day late fee

Can ONLY be returned at the North Kingstown Free Library and at the Circulation Desk. Cannot be returned in the book drop.
So, grab a Binge Box, gather your friends and family, and enjoy the magic of movies!!