Borrow Our Telescope!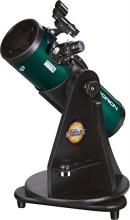 The library now has an Orion StarBlast Astro Reflector telescope available for patrons aged 18 and older to borrow.
The telescope, which was generously donated to us by Skyscrapers, Inc., is available to be borrowed for a period of one week. The telescope may be checked out or reserved downstairs at the Reference Desk.