Sunday Musicales: Mixed Magic Theatre Exult Choir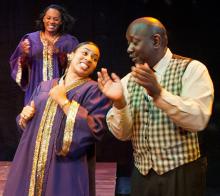 PLEASE NOTE TIME CHANGE TO 3:00 P.M.! The Exult Choir from Mixed Magic Theatre will be back for a second soul-lifting performance at the library. The critically-acclaimed Exult Choir was formed in 2006 in an effort to honor and preserve America's great gospel music tradition. This program will feature selections from three full-length performances by the choir: Legends in the Mist, Shakespeare in the Spirit and The Greatness of Gospel and will include songs from performers and composers from Thomas Dorsey to Clara Ward, from Curtis Mayfield to Bob Dylan. You will be hard pressed to keep your feet still as you listen to this inspirational and uplifting music. Please register.
Since 1985 the North Kingstown Arts Council and the Friends of the North Kingstown Free Library have sponsored Sunday Musicales.