Small Business Fridays: Power Networking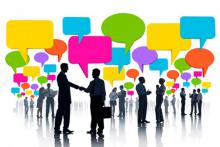 You understand that networking can grow your business and you have gotten over your shyness.  Now what?  Networking is not just about showing up at events (though that is part of it).  What you do when you are there and after you leave is where the rubber hits the road.  If you need to take your networking to the next level, come to this seminar presented by long-time networker Bob Salvas.  Bob will give you tools and ideas that will make your networking more successful and more profitable. Bob Salvas is a marketing consultant and SCORE counselor.
Register at http://tinyurl.com/powernetworkingNK
Small Business Friday is an ongoing series held on the fourth Friday of the month.