History Walk: Elm Grove Cemetery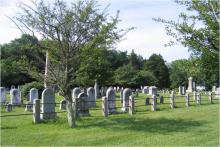 Tim Cranston will lead us through North Kingstown's largest public cemetery, established in 1850. Learn about relocated family cemetery burials that date back to the 1700's; 19th century "only in Rhode Island" political intrigue; North Kingstown's connection to the movie 12 Years A Slave and a whole lot more. The walk will begin just inside the southern-most gate of the cemetery.
Registration is required and begins on April 23rd.