Databases
ProQuest African American Heritage offers a comprehensive mix of resources, records, and tools specifically selected to help address the unique issues of African American family research. Inside ProQuest African American Heritage, users will find slave, free(d), court, and U.S. federal census records; marriage and cohabitation records, military records, and family history books; Black Genesis, an exhaustive guide that makes locating genealogical resources pertaining to slaves and free blacks easier; and direct access to AfriGeneas™, a community of research experts whose mentoring and assistance can frequently be the difference between research success and futility.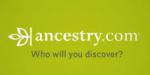 Ancestry Library Edition
Discover your unique family history! This resource includes billions of records from around the world, including U.S., U.K., and Canadian census and vital records, immigration and passport records, periodicals and books, photos, and more.

This Database can only be accessed in the Library*.
HeritageQuest Online provides libraries with a unique, growing collection of research materials for tracing family history and American culture. The database includes original page images from over 25,000 books and the entire U.S. Federal Census. Census records can be searched by name, place of birth, age, ethnicity and other variables.